for @physicsfun Instagram followers
"Where did you get all these things?" This question is often asked in the comments of my IG posts. My goal is to share the real magic of science and physics and to this end I will update this page with suggestions on where to get some of these toys, kinetic art pieces, and scientific curiosities for yourself. Purchasing items from the links on this page will help support my IG page of science and wonder. Thanks!
The Swinging Sticks Desktop Toy:
Special Offer! Click the link in Side Bar for details------------------------------------->
@physicsfun highlighted new toy/puzzle:
Order Now! Element Enigma- the 6 metal puzzle
---
Vintage Lava Lightning Lamp
Similar itmes available here:

From eBay:
BUY NOW Lightning Plasma Lamps
---
Frozen Lightning Fractal Lamp
Get one here: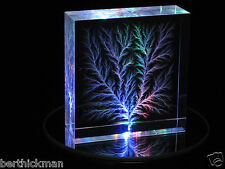 From eBay:
BUY NOW Captured Lightning Lamp
---
The Mirascope
See my blog post to learn more about the
physics and accidental discovery of the Mirascope
Get one here!
The larger version (Diameter = 9 in) as seen in the above video:
From Educational Innovations:
BUY NOW "Mirage" Mirascope
From Amazon:
BUY NOW "Mirage" Mirascope
A smaller version (Diameter = 6 in) that works well too:
plastic frog included =)
From Educational Innovations:
BUY NOW Small Mirascope
From Amazon:
BUY NOW Small Mirascope
---
Click here for more:
Physics Toys

,
UA-63736203-2
---