Story Scope
This mirror anamorphic art is now sold as "Cosmic Zoom" and comes with a variety of morphing image tubes- including the "Powers of Ten" as shown in the video.
From Amazon:
Cosmic Zoom Story Scope
The imagery shown in this toy is based on my absolute favorite science video short:
Powers of Ten
Made by the designers
Charles and Ray Eames
in 1977- worth a watch!
---
Hoberman Sphere
A wide variety of Hoberman Spheres are available- my favorite involve glow-in-the-dark components.
From Amazon:
Hoberman Spheres
---
Prisma Clock
One can usually find these clocks for sale on eBay- a bit pricey though!

From eBay:
Prisma Clock
New versions of the Prisma and other amazing clocks are also available from
Chrono Art
---
Stick Man Chaotic Pendulum
These stick man chaotic pendulums are no longer in production. However the product below is very similar and actually offers a wider range of configurations. I will post a video on this version in the future!
From Amazon:
Chaos Machine
---
CineSpinner Pencil Topper
For a wide array of CineSpinners animations see the following video and links. The I❤U pencil topper can be found here:
From Star Magic:
Pencil Topper
---
CineSpinner
CineSpinners are available with a wide array of animations: swinging monkey, blinking eye, running deer, dog, cat, and horse, and a jumping dolphin among many others...
From Amazon:
CineSpinners
---
Frozen Lightning Lamp
Making a fractal Litchenberg figure: A piece of nonconducting acrylic is filled with electrons using a linear accelerator and then discharged to ground with a flash and bang- the "frozen lightning" figure is the permanent result. Electrons typically will not flow through an insulator, but a high velocity beam of them from a linear accelerator allows the electrons to tunnel deep into the plastic and build up a very large charge slowly. Such a large charge can then create a high enough voltage to create a breakdown arc which is hot enough to leave the fractal pattern.
Bert Hickman makes beautiful and affordable "Captured Lightning" sculptures with this method. A selection of his sculptures are available here: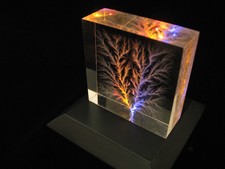 From eBay:
Captured Lightning Lichtenberg
---
Warping "TV Rock"
Samples of TV Rock are available on on-line (see the links below the next video), but for samples that have this warping feature you will need to visit the rock shop that supplies most of the ulexite samples to the world:
Desert Discoveries
in Boron California, just off Highway 58 between the cities of Barstow and Mojave.
---
Ulexite "TV Rock"
Samples of all sizes are available at reasonable prices. The "TV rock" effect looks even more amazing in person.

From eBay:
TV Rock
From Amazon:
TV Rock
If you ever find yourself driving on Highway 58 outside of Mojave in California, stop and take the tour of the largest open-pit mine in our state, just off the road and the museum is interesting:
Rio Tinto Borax Mine
---
Happy Meal Physics
Throwback to 1992-98 for this CBS morning show about science- Zaloom!
Beakman's World
merchandise is available on eBay, including these "happy meal" toys
From eBay:
Beakman's World
The physics of this toy is the same as this Seal and Ball toy:
---
Magneto Seal and Ball: Vintage Magnetic Toy
Here is a nice description of the how this toy works:
Magnetic Seal Physics
As far as I know this toy is no longer in production, but a few similar versions are currently available on eBay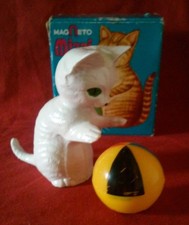 From eBay:
Magneto Toys 1
,
Magneto Toys 2
---
Fluorescence and Birefringence in Calcite
A nice summary from Wikipedia:
Calcite
For a good source to buy calcite crystals see the links supplied after the next video. Thanks!
---
Birefringence in Calcite
Get a piece of optical calcite and the polarizing filters you will want from Educational Innovations
From Educational Innovations:
Optical Calcite
From Educational Innovations:
Polarizing Film
---
Electric Motor: Simplest Form
From Educational Innovations:
Simplest Motor
---
Transit of Mercury 2016
Wikipedia has the details:
Transits of Mercury
---
Polarizing Filter Black Wall Illusion
Amazon lists acrylic tubing at a reasonable price: get a 2 foot long tube with an inner diameter of 1.5 inches for about $17 US. This will accommodate a large marble for the demonstration.
From Amazon:
Acrylic Tubing
For a 1.5 inch inner diameter (3.8 cm) tube you will need a 10 inch (25.4 cm) wide sheet to complete a cylinder inside the tube.
From Educational Innovations:
Polarizing Film
---
Oil Drop Timer: With Dolphins
Available here
From Amazon:
Liquid Motion with Dolphins
---
MagneView Film: tracking magnets
---
Thermochromic Constellation Mug
Available from
From Educational Innovations:
Constellation Mug
, and also:
Dinosaur Mug
---
Diffractive Optical Element Part II
---
Diffractive Optical Element Sample
Amazing application of high resolution far field holograms. The only available source for projections holograms at this high resolution is this supplier of industrial samples
From MaterialSampleShop.com:
Diffractive Optical Element Sample
This physics of this device is closely related to that of far field holography- see the following two posts for further examples of fun physics toys available using this technology.
---
Far Field Hologram Applications
Made by American Paper Optics Inc. all versions of these holographic glasses can be found here:
from Amazon:
Wild Eyes 3D Glasses
Here is an excellent description of the physics and principles of operation of these far-field holograms by the manufacturer
HoloSpex, Inc.
Interestingly, this is the same physics used to make the laser projection caps (see next video below).
Need a laser pointer? Incredibly, you can get 3 (one of each color) for under $10 (including S&H):
From eBay:
Red+Green+Purple Laser Pointer
---
Projection Laser Pointer
Here is the exact type from the video:
These can still be found on eBay (and also inexpensive)- such as these:
Red Projection Pointers
or from this search:
Projection Pointers
---
Reaction Rocket
The essence of a great physics toy: simple design showing comlex physics
From Educational Innovations:
Reaction Rocket
---
Asymmetric Spinning Top: Books are Tops
This vintage top is available from the Top Museum (yes there is such a place!)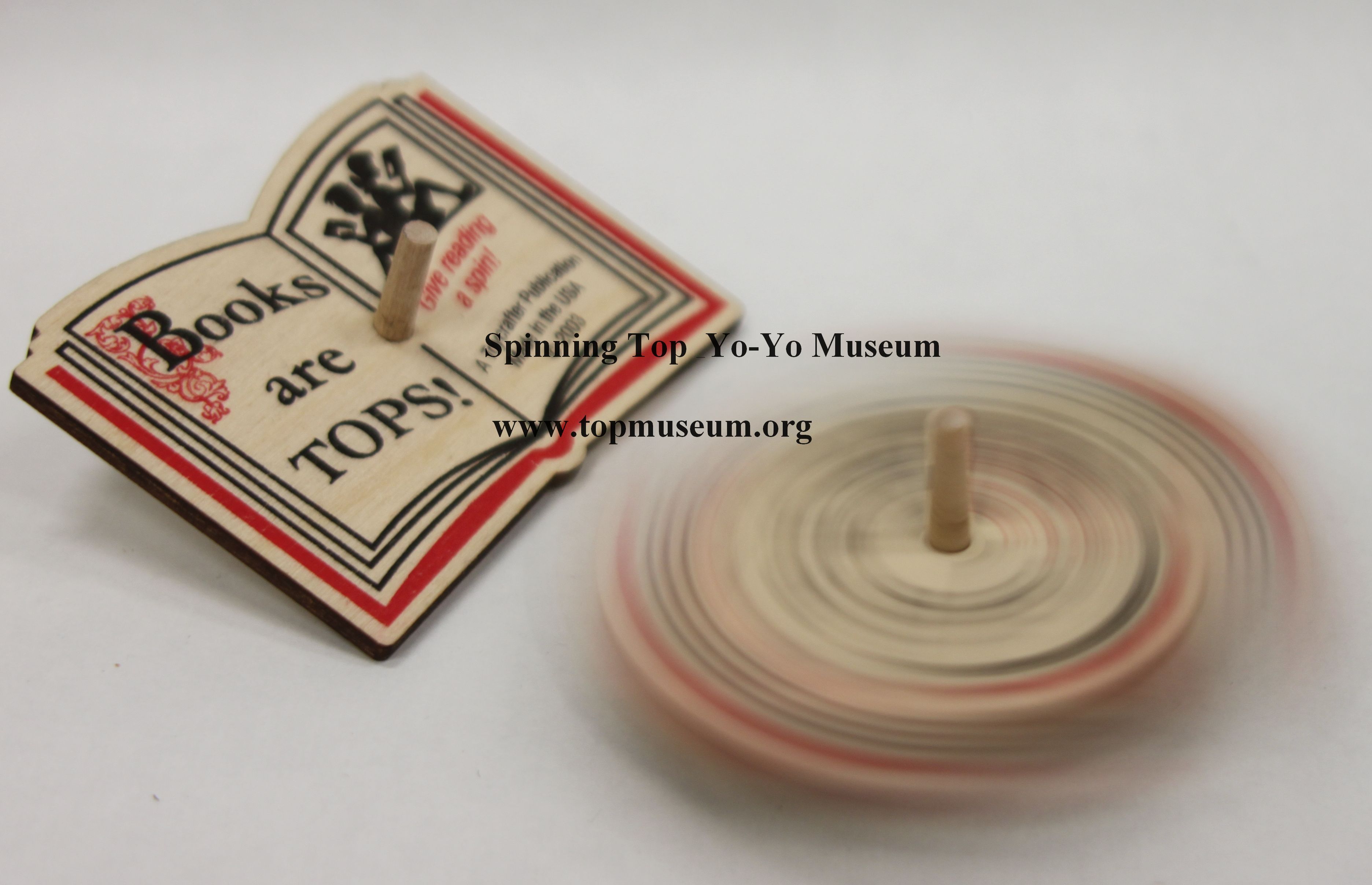 From The Top Museum:
Book Top
(Scroll down a bit)
Here are other versions of these kind of center-or-mass tops:
---
Asymmetric Spinning Tops
Available on eBay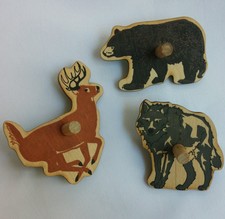 From eBay:
Asymmetric Tops
---
Spectral Decoder CD Art: Bright Eyes
Cassadaga
Interesting band and incredible physics toy CD art:
From Amazon:
Cassadaga
---
Fused Optical Fiber Magnifier
These taper magnifiers are special application devices and are typically very expensive. Here is a source to get one under $50 (but only a few left in stock)
From Plastecs.com:
Fiber Optic Taper
---
Digital Sundial
Invented in 1994 and designed and built in Germany, the microlouver masks are precision engineered to give 10 minute accuracy to the digital sundial. Learn more about the inventors and how to buy a digital sundial for your specific latitude here: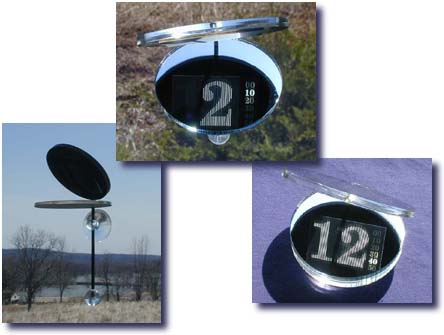 From Digital Sundials International:
Digital Sundial
---
Rolling Pendulum Acrobat
Action and Motion series by Otagiri circa 1978: Acrobat with original box
Kinetic Art by Otagiri can often be found on eBay. Vintage from the 1970s, these sculptures utilize the physics of low center of mass (and associated stable equilibria), pendulum motion, and angular momentum.

From eBay:
Otagiri Kinetic Art
Kyle's Kinetics offers state of the art stainless steel kinetic art on Etsy:
Kyle's Kinetics
Check out an example of his recent work in the video below:
---
Balance & Poise
Kyle Auga creates incredible kinetic sculptures- all of them use physics to showcase the unexpected nature of nature.
Check out Kyle's art on Etsy:
Kyle's Kinetics
Contact Kyle through Etsy or IG.
---
---
Click here for more:
Physics Toys,
UA-63736203-2
---